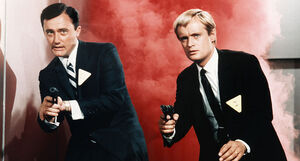 The Man from U.N.C.L.E. is a television program that ran for three and a half seasons on NBC from September 22, 1964 to January 15, 1968. The show has an international espionage theme, focusing on a government organization called U.N.C.L.E. that battles an evil organization called THRUSH. The organization was not limited to one country. The top agents seen in the show were American spy Napoleon Solo, his partner the Soviet spy Illya Kuryakin, and their British boss Alexander Waverly.
There was a spinoff titled The Girl from U.N.C.L.E. in 1967 that lasted one season.
There was also a reboot movie released in 2015.
Characters
Edit
External links
Edit